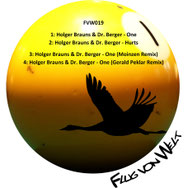 (FVW019)
Holger Brauns & Dr. Berger - "One" EP
with Gerald Peklar Remix and Moinzen Remix

Support and plays by:
Paco Osuna (Mindshake/Plus 8 Records): Great, definitely will try, thanks ;)
Robert Owens (Compost / Subliminal /Underwater Records): Great tracks!!!
George Cooper (Ambassade Records, First Floor): Dr Berger und Holger Brauns verabreichen eine träumerischere Flug von Welt Medizin ... und das nicht nur einmal.. :-)
PHILIPP STRAUB (MBF Ltd/Bedrock Records/Yoshitoshi Recordings): NICE EP
DJ Misk (Radio AltroVerso // Rome) (AltroVerso):playlist and support in altroverso
Piemont (Exploited/Lapsus/Glasgow Underground/Toolroom): 'One' is cool!
Nudisco (Yellow Tail, Takt, Great Stuff // several): nice one
Binary & Durden (Tanzbar Musik, Kostbar Musik, Workbench, Young Society: YESSS! Metallica auf Flug von Welt! Love it!!!!!
Tyler Stadius (Fabric London): Good dancefloor friendly tracks. Thanks for sending.
Jabster: dope 
Chris Drifter (Baroque Records / SoundTribe Rekords): nice ep!!
Ichso Erso: One came along with some melancholic western tunes - nice shit -
LAURENT N. (LCR & Electropical Records/Various Radio ShowS):Nice One Moinzen remix for me.
Will play & Support !
Brian Bacchus (Summit Sessions Radio Show): One Original has a mellow groove with some soul, nice work!
Sedat Altinok (7REGISTER): Moinzen Remix for me. Nice vibes here! The other ones are fantastic too! Thanx!
Mapusa Mapusa / Johnson: My Fav is One, Moinzen Mix too...phat Bass ! Thx !
Saite Zwei (Tach & Nacht): cool!
Lonya Koval (Asymmetric Recordings): Gerald Peklar Remix for me here
Moe Danger (Metropolitan Recordings/Taste of Honey/Pure* Records): diggin' Hurts! good stuff, thanks :)
Tim Overdijk (Zwartkrijt): nice release, thanks for the music!
Tiefgeist (Parquet Rec. / Wannda / Tonspur Rec.): nice one . thank you
Repton (Login records): Gerald remix for me
Enzo Tedeschi (No-Attitude Recordings / London Warehouse Events): thanks!
Andree Wischnewski (Ostfunk/040 Rec / Scotty.A (Proton Music): nice work!, cheers
Sascha Kloeber (Spinnin, Soso, *Pure, Partina): Metallica - one... :)
Once again Holger Brauns & Dr. Berger come along with two very smart and unique dance tracks! "One" works with well known samplecuts from Metallica while deep-house instruments spinnig around and 70th stack sounds and plug basses supporting the groove. 
Their track "Hurts" is more pushy and more agressive because of kicking percussions and fast ducking basslines. Cool Stuff. 
The "One" remixes extense the musical spectrum a lot: The Gerald Peklar remix is a deep-deep techno monster and the Moinzen remix is a warm and cosy "laid back beach house" track. Special Stuff.
Releasedate: 10.11.15
---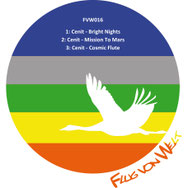 (FVW016)
Cenit -  "Bright Nights" EP
We proudly announce the DJ and Producer CENIT (based in Hamburg). We met him more than 10 years ago and finally it's time to release and support 3 great urban techno tunes from this lovley and talented boy!! Let's rock the dancefloors..
Support and plays by:
Richie Hawtin (Minus), Florian Meindl, Repton (Login records), DJ Misk (Radio AltroVerso // Rome), Todd Burns (Resident Advisor), Edgar de Ramon (Mindshake / Kiara records), Giuliano A.L. (Hotel Es Vive' Ibiza Cafe Del Mar Ibiza Kama Sushi Ibiza), Norbert Honkisch (NH-Records), Ulli Brenner, Philipp Straub, Matt Heize (ion music - pushit records - recode-music // fabulous techno finds), Felix Mauer (MFM / Booking Agent) (MFM Booking), Pressure (Promoter), Alexander Bien (sonus.fm), Das Fachpersonal (Cubetribe Records), Eddie Hu (Revox Records , Nervous Records), Janosch Gebauer (FAZEmag), Robert Owens, Lucio Malatoid (Malatoid Records Pressology Records and Distribution // Friday Line / Malatoid Sound Radioshow), Tyler Stadius, Jack Beuys (kol mojito, kosmetik rec.), Lars Neubert (Casual Lab), Tim Overdijk (Zwartkrijt), Chris Drifter (Baroque Records / SoundTribe Rekords), Datamatrix (reviews techno.cz, Cosa Nostra, Unbrokenbeat, Carmarage), Claas Herrmann (Capitol Input), LAURENT N. (LCR & Electropical Records / Various Radio ShowS), Mark Brain (Turning Wheel, Alphabet City // world-wide), Maceo Plex / Maetrik (Ellum), Catmer (Slippermouth Records), Bombilla (Double Dot, Trapez, Dub Records // Trichter Club, Konstanz), Mr Phonic (Punk'id records // Sunset Terrazza), Man Fredo, Mario Spit (Consumed Records), Chris Fortier (field trip + plus various), D!E ZWE! (Electrotribe // Fast Motion Records // Magic Modern Times), Robert Grand (additan radio, Additan Recordings), Marcel Sareyka (Partysan Nord), Scotty.A (Proton Music), Enzo Tedeschi (No-Attitude Recordings // London Warehouse Events)
---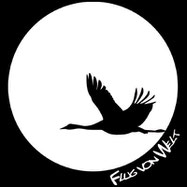 (FVW012)
Holger Brauns & Der Mo – "Right Back" EP  
with Nils Nuernberg Remix and Dennis Reich Remix)
HERE WE GO FOR TWO SPACY SHAKING AND MELODIOUS SUMMERTIME TRACKS FROM HOLGER BRAUNS (NIGHT DRIVE MUSIC, KLANGFARBE, LIEBE*DETAIL) AND "WAAGENBAU-RESIDENT" DER MO (REGULAR, WHIRLPOOL SEX MUSIC) WITH TWO GREAT REMIXES FROM  NILS NÜRNBERG (8BIT, DESSOUS, DIEB AUDIO) AND DENNIS REICH (VEE RECORDINGS).
Support and plays by:
TREVOR ROCKCLIFFE ( MENTOR RECORDS / FULL TILT), PIEMONT (SUCHTREFLEX, MBF), JAMES BLONDE (MBF / KONSEQUENZ / BUDENZAUBER), ANDREW GRANT (CIRCOLOCO / BARRACA MUSIC), MIKAEL STAVÖSTRAND (HIGHGRADE / KINDISCH / SUNSET DISKOS), ZIEL100 (DATAPUNK / MUTEKKI ), DAN CURTIN (MOBILEE RECORDS), ANDRE KRONERT / NEUROTRON (NIGHT DRIVE MUSIC, OSTWIND, TANZBAR, SESSION DELUXE, 616 DETROIT), SOLEE (PARQUET RECORDINGS), MARKUS LANG (EINTAKT), STEFAN (FLOPPY FUNK), DAVIS AND MAY (MARIPOZA RECORDINGS), JUS PHIL (MONU DIGITAL / PROJEKT 3), RAINER WEICHHOLD (GREAT STUFF), DJINXX (MEZZO-TINTO), RICO BÖHME (TANZBAR/KOSTBAR), TINO (KLANG-GYMNASTIC), TOM KEIL, DUALTON (FLUG VON WELT / KIDDAZ FM / VIVID RECORDINGS), TYLER STADIUS (FABRIC), TANDEM (KLANGFARBE SCHALLPLATTEN), MICHAEL ALTHAMMER (PUZZLE / WHIRLPOOL SEX MUSIC)
---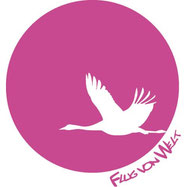 (FVW009)
DUALTON – "Cidade" EP
with Lars Wickinger Remix and Elef.ant Remix
THESE GUYS ARE MORE THAN JUST UPCOMING ARTIST – THEY ARE WELL ESTABLISHED! AFTER  SEVERAL RELEASED HITS ON LABELS LIKE BLUFIN / ELITE / BEDROCK OR GLOBAL UNDERGROUND - I GOT THEM FOR FVW:  TWO HOUSY, TECHY AND FLOORMINANT TRACKS! WITH TWO AMAZING REMIXES FROM LARS WICKINGER AND ELEF.ANT. WOW!!
Support and plays by:
JOHN SELWAY, PACO OSUNA, LUCA BACCHETTI, ITALOBOYZ,  PATRICK CHARDRONNET, DAN DRASTIC, PHONOGENIC, MILTON JACKSON, TONI RIOS, SEBBO, ALEXI DELANO, EMERSON, DEAN MUSHIN, STEPHAN HINZ, ANDRY NALIN, ANTHONY PAPPA, DJ REMY, PERC, WALLY LOPEZ, TOCADISCO, KASEY TAYLOR, SAEED YOUNAN, ANTE PERRY, FLOW & ZEO, 
PRESSLABOYS, RandomPLAY, PHILIPP STRAUB / FELIPE, JENS LISSAT, MIJK VAN DIJK, JAMIE ODELL, JAUMËTIC, JOY KITIKONTI, ANDREW GRANT, MARK-HENNING, ROBERT OWENS,  DJ TAUCHER, MINIMALLOUNGE, DENNIS REICH, SEBASTIAN ROYA, TYLER STADIUS, DAVE MOTHERSOLE, ROMEO SOLER,  SIMON JAIN, PAUL DAILEY, TIM THALER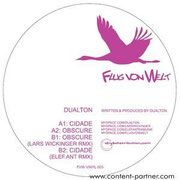 (FVW Vinyl 003)
DUALTON – "Cidade" EP
with Lars Wickinger Remix and Elef.ant Remix
12" Vinyl
---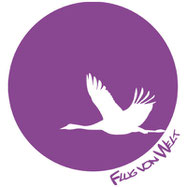 (FVW005)
Der Thal - "Serenade" EP
with Hatzler Remix
FLUG VON WELT PROUDLY PRESENTS:
DER THAL "SERENADE EP".
HE ALREADY RELEASED HIS DEBUT ON FEROX RECORDS, IS NOW ON FVW AND WILL HAVE VARIOUS RELEASES IN THE FUTURE.
DER THAL EXTENSES THE MUSICAL SPECTRUM OF FVW WITH A MORE DEEPER, MORE HOUSY AND MORE ORGANIC STYLE. NAMOS AND SERENADE FUNCTION WELL IN INTIMATE DJ SETS WHEREAS THE HATZLER RMX STANDS FOR CRAZYNESS AND MINIMALISM.
Support and plays by:
JAMIE ODELL aka JIMPSTER (FREERANGE / BUZZIN FLY), ANDREW GRANT (PLASTC CITY / CIRCOLOCO), ROBERT OWENS (COMPOST RECORDS), JEFF SAMUEL (POKER FLAT / TRAPEZ / SPECTRAL SOUND),TONI RIOS (DANZA ELECTRÒNICA / COCOON / HARTHOUSE)
DEAN MUHSIN (DISPERSION PR / SUPERNATURE), MARCEL JOCHMANN (OPOSSUM), TYLER STADIUS (FABRIC / LONDON), TOMMY FOUR SEVEN (SHOOTING ELVIS / TOOLROOM), JEFF BENNETT (KUNG FU DUB / KICKIN / PLASTIC CITY), MIKE WALL (MEERESTIEF / MODULAT/ PRODUKT), DJINXX (OVUM / DELSIN / COCOON), KLAUS SCHNEIDER (HOPE REC. / FULLSCALE MUSIC / DIMMER), PHILIPP STRAUB (TITANIUM REC. / PRIMATE REC. / MB ELEKTRONIKS), PATRICK ZIGON (COCOON / TANZBAR), DAVE VAN (MADE INN MUSIC), NICOLAS MASSEYEFF (HERZBLUT), NICKOLAS BRADDOCK aka NIK FERAL, LARS SOMMERFELD (FUMAKILLA / FLUG VON WELT/ TWO FACES), DUALTON (MUSIK GEWINNT FREUNDE / GLOBAL UNDERGROUND), DJ HILDEGARD (BIG CITY BEATS), CHRIS GRUBER (DIYNAMIC / LORNA / WAS NOT WAS), FRANK BOJERT (FLUG VON WELT)
---
(FVW002)
Frank Bojert - "No Time To Waste" EP
AFTER THE BIG SUCCESS OF THE FIRST "FLUG VON WELT" RELEASE WE ARE TAKING OFF WITH THE SECOND ONE BY NEWCOMER FRANK BOJERT - NO TIME TO WASTE EP.
A MINIMAL FUNKY AND FLOORSHAKING RECORD INSPIRING FOR BOTH DANCERS AND PLAYERS!
Support and plays by:
NUDISCO (POKERFLAT / GREAT STUFF), PHILIPP STRAUB (TITAN / VIENNA), TYLER STADIUS (FABRIC, LONDON), JAUMËTIC (REGULAR / HARTHOUSE), JEFF SAMUEL (TRAPEZ / POKER FLAT / SPECTRAL SOUND), KLAUS SCHNEIDER (HOPE REC. /FULLSCALE MUSIC / DIMMER), MIKE WALL (MODULAT, MEERESTIEF, PRODUKT SCHALLPLATTEN), DUALTON (MUSIK GEWINNT FREUNDE / GLOBAL UNDERGROUND), CHRIS GRUBER (DIYNAMIC / WAS NOT WAS), DIRK HEIDECKER / ROYAL TWO (ROY TOYS REC. / SUPRA), MICK THAMMER (PUZZLE TRAXS / DANCE ALL DAY), BJÖRN NAFFE (WHIRLPOOLSEX MUSIC), DANIEL BRUNS (DEEPDUB REC.)
---